5.3.1 Ventilation in health and care settings
5.3.2 Mechanically ventilated areas
5.3.3 Naturally ventilated areas (no mechanical ventilation)
5.3.5 Bed and treatment chair spacing
Controlling exposures to occupational hazards, including the risk of infection, is the fundamental method of protecting users of the health and care facilities.  Figure 1 is a graphic specifying the general principles of prevention legislated in the Management of Health and Safety at Work Regulations 1999, Regulation 4, Schedule 1. It details the most to the least effective hierarchy of controls and can be used to help implement effective controls in preventing the spread of respiratory viruses within health and care settings.  The hierarchy of controls will help protect all users of the health and care facility and not just staff.  NHS Boards/care organisations and staff should first employ the most effective method of control which inherently results in safer control systems.  Where that is not possible, all others must be considered in sequence.  Personal protective equipment (PPE) is the last in the hierarchy of controls and may be the only mitigating control when caring for a service user with a pathogen spread by the airborne route.
Figure 1: Hierarchy of controls diagram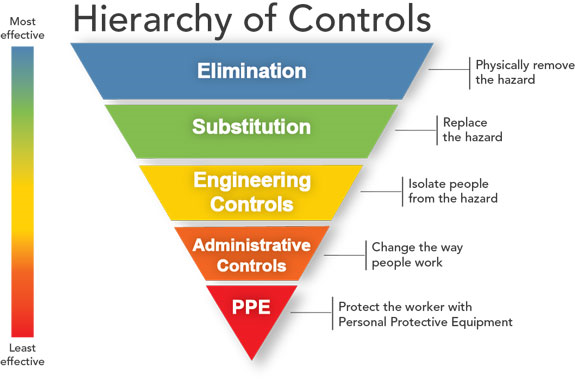 Centers for disease control and prevention. The National Institute for Occupational Safety and Health. Hierarchy of Controls. 2015.
Examples of ways in which the hierarchy of controls can be applied in health and care settings is as follows (note these are examples; not all will apply in every health and care setting and generally apply to both the respiratory and non-respiratory pathways unless otherwise stated);
Table 1: Hierarchy of controls examples in practice
Hierarchy of controls

Example in practice and resources

Elimination


Consider performing consultations for service users with respiratory symptoms by telephone or digital means if possible and not detrimental to the service user.  Services may adopt a hybrid approach whereby they choose to see some service users face to face and others via digital consultation – this should be determined locally by means of a risk assessment
Service users must avoid attendance at health and care facilities whilst symptomatic of a respiratory virus where the matter is non urgent. It should be noted that postponement of urgent care is not advised
Staff must not report to work if they have symptoms of
COVID-19
Staff testing negative for SARS-CoV-2 by PCR who remain symptomatic of another respiratory virus should consider the risk to service users particularly if they are immunosuppressed or otherwise medically vulnerable before returning to work.  Once medically fit to return to work, if staff are in doubt about any risk they may pose to patients or colleagues, this should be discussed with their line manager in the first instance
Patient facing staff should adhere to requirements laid out in section 5.12.3 'Patient facing HCWs: Isolation and Exemption requirements' if they develop respiratory symptoms or test positive for COVID-19
Visitors must not enter a health and care facility if they have suspected/confirmed COVID-19 or have been advised to self-isolate for any reason (unless exceptional circumstances and essential visit pre-arranged with clinical and Infection Prevention & Control Team (IPCT))
During the COVID-19 pandemic, staff who can work from home should be supported to do so
Consideration should be given to non-clinical/health and care staff who typically enter clinical/care areas as part of their job role and alternative arrangements made wherever practically possible

Substitution

Consider use of alternative venue to reduce risk wherever practicable, e.g. meet outside; use a non-shared, large, well-ventilated room near front door of the facility; arrange a home visit; move service to a room with better ventilation

Engineering controls


Administration controls

Reduce waiting time for service users in waiting areas e.g. practices, outpatient clinics, radiology waiting areas as far as possible e.g. consider asking service users to wait in their car or outdoors if possible until telephoned by the department to advise of safe entry to the building for appointment. Inpatient radiology departments should aim to request attendance by inpatients from wards which will limit the time waiting in the department
Avoid face to face waiting arrangements in waiting areas (side by side and/or back to back preferred)
Reduce movement of service users on the respiratory pathway where procedures can be performed in their own room rather than requiring transfer to another department/area
Make efforts to reduce number of people on premises at any one time wherever practicable e.g. consider reduction in number of staff involved in ward rounds.
Consider whether Multi-Disciplinary Team (MDT) meetings, case conferences or other staff meetings could be undertaken using digital methods
Reduce number of staff in break areas/changing rooms/offices by staggering break times, shift start times and display maximum occupancy on entry to and within the room
Development of dedicated respiratory pathway and dedicated assessment/consultation rooms on the premises for use by service users with respiratory symptoms
Operate one way systems where possible
Display appropriate signage throughout the facility
Ensure provision of additional hand hygiene and face mask stations
Ensure there is regular reiteration of controls and key messages associated with respiratory pathway guidance via safety huddles, communication emails

Personal Protective Equipment (PPE)


Use of Type IIR FRSMs as per extended use of facemasks guidance
Use of face coverings (although not classed as PPE) by service users and visitors – in secondary care they can be provided with a Type IIR FRSM as per extended use of facemasks guidance
Use appropriate PPE when a risk assessment indicates this is required
Ensure adequate supply and availability of PPE including respiratory protective equipment (RPE) to protect staff, service users and visitors
Health and care settings must seek to identify and prepare the most suitable clinical/care area for planned placement of service users requiring care on the respiratory pathway. 
Prior to determining areas for planned placement of the respiratory pathway, the NHS Board/care organisation must ensure a full structured risk assessment of the proposed area is carried out.  This should be undertaken using the hierarchy of controls and recognise that there is lowest risk where elimination can be achieved and highest risk where PPE is the only control in place.  Risk assessments should be periodically reviewed as determined by the NHS Board/care organisation to ensure no change to the level of risk.
If the risk assessment concludes that an unacceptable risk of transmission remains within the environment after rigorous application of the hierarchy of controls (e.g. unable to defer patient care, area poorly ventilated AND overcrowded) and only if there are no other more optimal lower risk areas suitable for the respiratory pathway, then the NHS Boards/care organisation should consider utilising the area for this purpose with provision of respiratory protective equipment (RPE) (FFP3 respirators) for the staff working in this area. 
The evidence continues to support the most likely route of COVID-19 transmission being via the droplet and contact route.  However, it is accepted that in some high risk environments housing COVID-19 cases where mitigations in line with the hierarchy of controls cannot be applied, the level of risk is unknown. As a precautionary approach, the use of RPE by staff in the designated area may be considered by the organisation.  This takes account of guidance issued by the World Health Organization (WHO) occupational health and safety for care workers.


Primary care and community health and social care settings
Risk assessing placement of respiratory pathway
Primary care settings and community health and social care settings should aim to apply as many of the hierarchy of controls as possible whilst maintaining patient safety.   
Work places should systematically work through the hierarchy of controls from top to bottom for each area required for the respiratory pathway e.g waiting areas, consulting rooms, treatment areas. 
When selecting areas for the respiratory pathway, those which are well ventilated and have enough space to prevent overcrowding are optimal and reduce transmission risk. 
These principles also apply to the delivery of care at home.
NB: Physical distancing no longer required in primary care areas including GP practices

Care home settings
Risk assessing placement of the respiratory pathway
Care home settings should plan in advance to establish how best to manage residents who require care on the respiratory pathway. 
Isolation in a resident's own room should commence if suspected or confirmed to have a respiratory virus. 
Residents who have a suspected or confirmed respiratory infection should not use communal areas until de-escalation criteria is met.

Secondary Care settings
Risk assessing placement of the inpatient respiratory pathway
Some health and care settings and service user groups present a greater risk for the transmission of respiratory viruses including inpatient settings where patients with COVID-19 spend extended periods of time and are more likley to have more severe COVID-19 disease.  Prior to determining areas for planned placement of the respiratory pathway, the NHS Board/Organisation must ensure a full structured risk assessment of the proposed area is carried out, led by operational and clinical management and involving Health and safety teams, Estates and Facilities representatives, Occupational Health Services (OHS), Infection Prevention & Control Team (IPCT) and the clinical team.  A Risk Assessment algorithm was developed for COVID-19 patient placement but can be applied to the respiratory pathway.  The algorithm aims to help support the risk assessment process and should take account of the following;
Does the room capacity allow for all bed/chair spacing in line with current guidance or 2 metres distancing as a minimum?
Is the area mechanically ventilated and meet a minimum of 6 air changes per hour (ACH)?
5.3.1 Ventilation in health and care settings
Adequate ventilation reduces how much infectious particles are in the air by dilution. It helps reduce the risk of transmission of respiratory pathogens - the risk is greater in areas that are poorly ventilated. This guidance document is not intended to contain technical detail on ventilation but rather provide over-arching advice on the considerations for health and care settings in the context of respiratory pathogens and risk reduction. The content below should be read in conjunction with the relevant national guidance relating to ventilation in the built environment.  
A number of studies have linked COVID-19 transmission to recirculating air conditioners, with the high velocities created by these units potentially allowing larger viral aerosols to remain airborne over longer distances. It is also possible that directional flow from desk fans could have a similar effect however the evidence of this is weak.  Fans should be avoided as much as possible and should not be used without prior risk assessment.  An SBAR details the considerations for risk assessing fan use.
(SHTM 03-01 Part A) Ventilation for Healthcare - Design and validation details the ventilation requirements for healthcare settings and notes that 6 ACH is considered adequate for general areas within health and care settings across both the respiratory and non-respiratory pathways.   Some areas of healthcare e.g. theatres, treatment rooms, dental surgeries require higher specification of mechanical ventilation and further details can be found in guidance laid out in section 5.3.2.  Dental settings may also refer to SDCEP Ventilation Information for Dentistry. It is recognised that many health and care areas are not installed with mechanical ventilation systems to achieve a minimum of 6 ACH and NHS Boards/care providers are not required to upgrade ventilation throughout all of their estate (unless this is part of the existing strategic plans) however it should be noted that where mechanical ventilation provides 6ACH or more, that respiratory pathogen transmission risk is reduced.  Other mitigations must be in place to reduce transmission risk such as those described in the hierarchy of controls in particular where there is no mechanical ventilation. 
Service users with known or suspected respiratory viruses must not be placed in a positive pressure room.
5.3.2 Mechanically ventilated areas
NHS Scotland Boards/Health and Social care providers should seek assurance that their ventilation systems comply with guidance to which they were designed, including:
Ensure ventilation systems are well maintained ensuring functionality of air handling units and correct delivery of assigned air change rates. Controls should be set to maximise the amount of fresh air coming into the space and avoid recirculation of air as much as possible. Dampers should also be opened as far as possible. 
5.3.3 Naturally ventilated areas (No mechanical ventilation)
Ensure areas are ventilated as much as and as frequently as possible by opening windows if temperature/weather conditions allow.  Where weather conditions do not allow for windows being opened, consider if other mitigations can be applied within the area to reduce risk.  Organisations should consider any other safety risks with opening the windows where adjacent building works are in progress. If possible, open windows at different sides to get a cross flow of ventilation.  Where it is safe to do so, doors may be opened.  NB fire doors must NEVER be propped open. Airing rooms as frequently as permitted will help improve ventilation.  Where only natural ventilation exists, ensure maximum application of other mitigations measures as far as possible aligned to the Hierarchy of Controls.
Aerosol Generating Procedures (AGPs) undertaken on service users with suspected/known respiratory viruses/infection should be avoided in rooms with less than 6ACH and this includes rooms limited to natural ventilation.  If this cannot be avoided then a single side room should be used with all staff wearing appropriate airborne PPE, AGP fallow times adhered to and ensuring the door remains closed during the AGP and resulting AGP fallow time.
5.3.4 Air scrubbers
Where air-supply systems to high-risk clinical settings (in the context of respiratory transmission) are suboptimal, following risk assessment including assurance of the efficacy and safety of the filtration unit, health and care settings may consider using portable industrial grade air filtration units containing HEPA filters.  As yet, evidence on the use of air scrubbers is limited and as such these should be used with caution.  The units should be capable of recirculating all of the room air, without interfering with the existing pressure differential of the room and should provide a minimum of 6 air changes per hour.  The unit must be sized appropriately for the room in which it will be utilised and maintenance contracts should be procured to accompany the unit.  It should be noted that these units do not provide additional fresh air into a space and there is no standard to measure the efficacy of these devices.  NHS Boards should satisfy themselves that these devices are suitable and if required, seek advice from estates departments. Boards should also assess (not limited to) the noise levels, power requirements, heat gains and potential trip hazards as part of the risk assessment.
Currently, the CIBSE and SAGE resources below provide the best available independent views of air cleaning devices.
"Air purifiers" are typically used in domestic settings and should not be used in health and care settings.
More information on ventilation in the context of COVID-19 can be found at the following resources;
CIBSE: Covid-19 Guidance: Ventilation
SAGE: Role of ventilation in controlling SARS-CoV-2
SAGE: Potential applications of air cleaning devices
5.3.5 Bed and treatment chair spacing
All NHS boards and care providers must aim to meet the minimum bed spacing requirements laid out in the guidance below for secondary care settings.  This takes account of ergonomics within the clinical environment and not just healthcare associated infection (HAI) risk.  Some other health and care settings may choose to adopt this guidance e.g. hospice settings.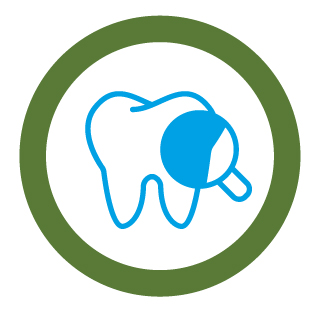 Dental settings
Since 2014, HBN 00-03's Figure 45 states a day treatment bay should achieve 2.45m width / centre-to-centre dimension. IM/2020/024 & its supplementary SIM2108 Fig 2B, assume a 0.5m diameter zone for the patient head and up to 3 trolley/ couch/ chair(s) in a row, will achieve a 2m physical distancing, i.e. a minimum 2.5m centre-to-centre.

Secondary care settings

Guidance consistently recognises that bed spacing requirements contribute towards the control of HAIs.  Adult in-patient facilities designed post 2010 should achieve 3.6m (width) x 3.7m (depth) dimensions of SHPN 04-01, HBN 00-03 and SHFN 30.  Width of 3.6m is measured from bed centre to bed centre.

Since 2014, HBN 00-03's Figure 45 states a day treatment bay should achieve 2.45m width / centre-to-centre dimension. IM/2020/024 & its supplementary SIM2108 Fig 2B, assume a 0.5m diameter zone for the patient head and up to 3 trolley/ couch/ chair(s) in a row, will achieve a 2m physical distancing, i.e. a minimum 2.5m centre-to-centre.

For older facilities, designed post 1995, HBN 40 bed bay minimum of 2.7 x 2.9m, the preferred minimum bed centre is 2.9m. Facilities designed pre 1995, or for clinical specialties e.g. Mental Health (SHPN 35 / HBN 03-01) or Care of Older People (HBN 37), had a bed bay minimum of 2.4 x 2.9m. For this specific group, the pragmatic minimum of 2.7m bed centres should be adhered to, and/or reduction to total patient numbers/ occupation per multi-bed room and ventilation enhancements should be considered where practicable.

Current NHS Scotland Guidance on bed spacing include: