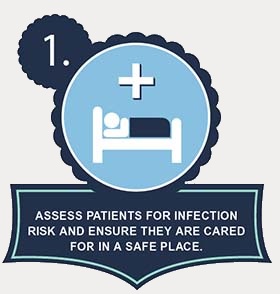 Patients must be promptly assessed for infection risk on arrival at the care area (if possible, prior to accepting a patient from another care area) and should be continuously reviewed throughout their stay. This assessment should influence patient placement decisions in accordance with clinical/care need(s).
Patients who may present a particular cross-infection risk should be isolated on arrival and appropriate clinical samples and screening undertaken as per national protocols to establish the causative pathogen. This includes but is not limited to patients:
With symptoms such as loose stools or diarrhoea, vomiting, fever or respiratory symptoms.

With a

known (

laboratory confirmed

) or suspected infectious

pathogen for which duration of precautions as outlined in appendix 11 are not yet complete

Known or suspected to have been previously positive with a Multi-drug Resistant Organism (MDRO) e.g MRSA, CPE.
Who have been a close contact of a person who has been colonised or infected with CPE in the last 12 months.
Who have been in contact with a confirmed COVID-19 individual and are still within the 14-day self-isolation period.
Who have been hospitalised outside Scotland in the last 12 months (including those who received dialysis).
For assessment of infection risk see Section 2: Transmission Based Precautions.
Further information can be found in the patient placement literature review.